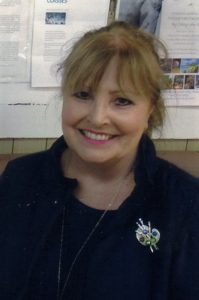 Julie M Goldspink A.W.I., A.G.R.A.F.,  is a multi-award winning artist who travels throughout Australia doing Workshops and Demonstrations. Her prefered medium is watercolour but also works in oil and acrylic, mixed media, collage and pastels. Her subject matter covers landscapes, seascapes, riverscapes, flowers and still life and her work is described as Realist Impressionist.
Self taught from a young age her formal education came later. It includes Fine Art studies at T.A.F.E, ten years at Mitchel College Summer/Winter Schools studying watercolour and portraiture,and C.S.U. B.A. majoring in Fine Arts and Textiles.
Acomplishments include both Solo and Combined Exhibitions and Major Exhibitions including Dalian Art Museum China  2016 and Taiwan and Australia International Exhibition 2020 and the International Watercolour Exhibition held in WA 2020. Julie has 20 years experience as a teacher/demonstrator/and workshopping and is a member of the prestigious Australian Watercolour Institute and a Fellow of the Australian Guild of Realist Artists.
For More information visit her about page. For DVDs, and Art Tours visit paintdownunder.com
Contact;- 350 Melbourne Rd Blairegowrie Vic Aust. 3942
Phone : 0402 123 978 or 03 5988 8852