Some workshops have been rescheduled and some are still scheduled as planned. The following announcements are the latest updates. 
We can still look forward to some great creativity. I hope you can join us.
NEW DATES FOR 2022
will be announced SOON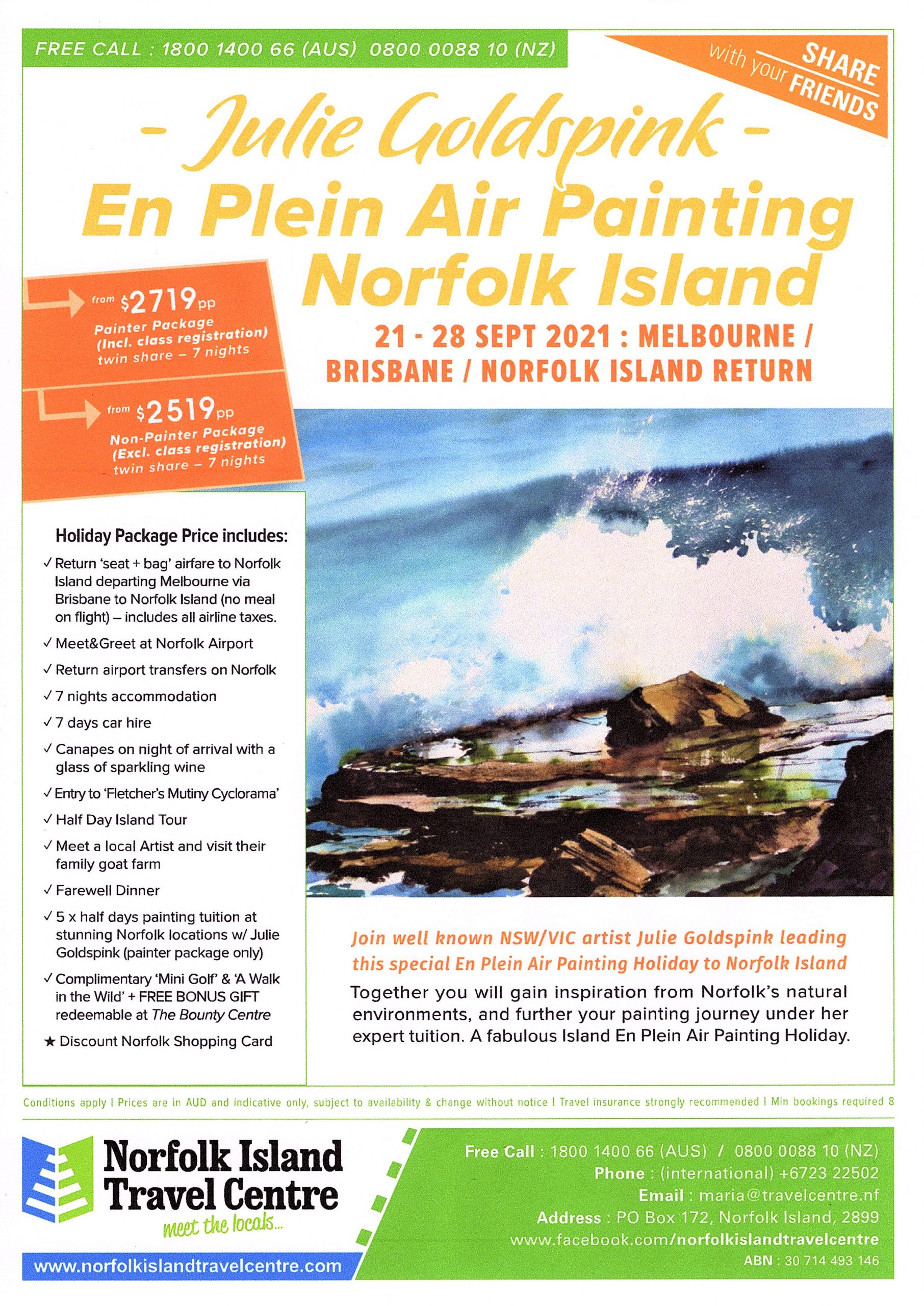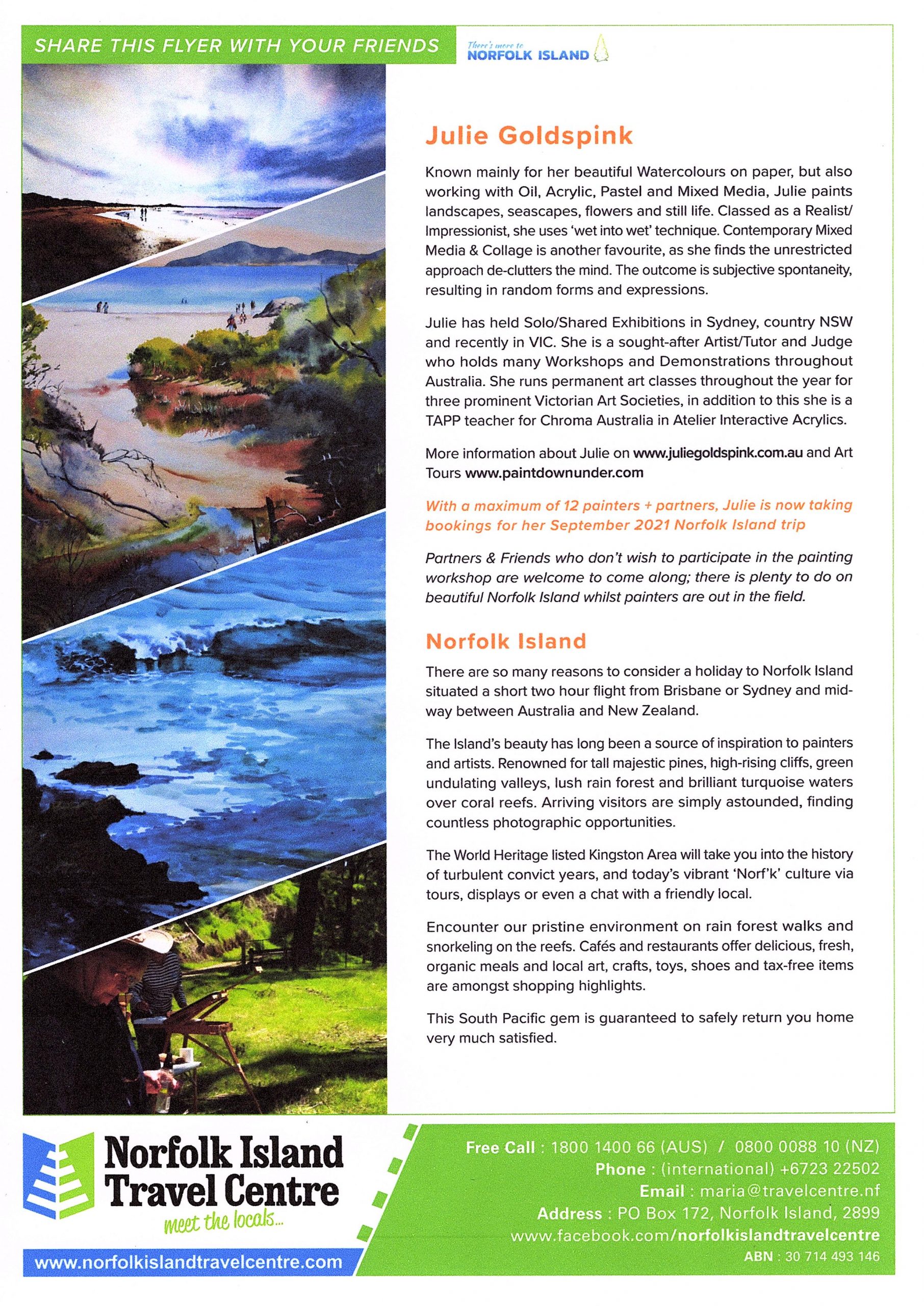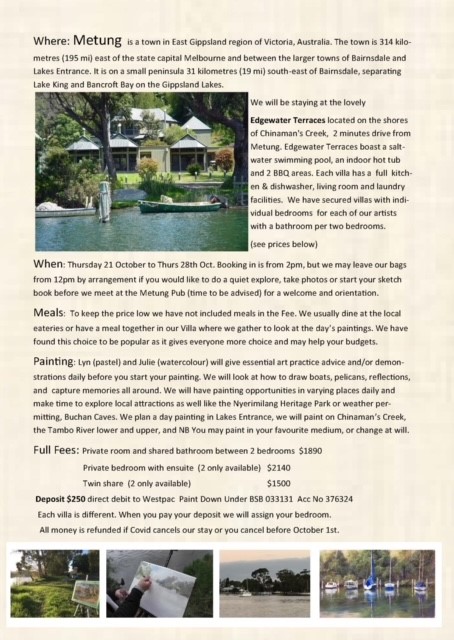 This is currently fully booked, but if you wish to go on the waiting list contact Julie or Lyn. With changeable border restrictions possible, a fully refundable deposit will secure your place in the waiting list.

Art Tours
With the uncertainty in the world over travel arrangements we are staying flexible and optomistic. 
The Norfolk Island Art Tour is now scheduled for 2022 (I will post this information asap)
The Tour to Bright has been further delayed
My studio classes in Frankston at the Peninsula Art Society are ready to commence as soon as the studio is available with back up ready in case they are interrupted
The Annual Pre Summer Plein Air workshop in November is still scheduled.
Our Art has been a wonderful thing to experience and enjoy inspite many challenges.
Let's all continue to enjoy it. Happy Painting.....
Due to Covid This event has been cancelled for 2020 /21 and with interstate borderschanging status constantly we are still not confirming dates for 2022  but hopefully it will be rescheduled in the near future. If you would like to show your interest or go onto an 'interested' list please email contact@paintdownunder.com. for future information.
WE REALLY CONCENTRATE ON MAKING THESE ART TOURS AS AFFORDABLE AS POSSIBLE BUT CANNOT PREDICT FUTURE CHARGES RIGHT NOW. wE WILL LET YOU KNOW AS SOON AS WE KNOW. 
HOW DOES THIS TOUR WORK?
TWO expert tutors, allow you to work in your preferred medium or change at will. You do not have to choose in advance. Both are there to help you gain the most from your travelling art holiday. Bring your watercolours, acrylics or pastels or both, plus a travel sketch book and camera. You are ready for everything. You will be able to paint, sketch and photograph 'til you run out of light or simply watch the demonstrations and enjoy the company, food and holiday.
Simply drop us an email to register your interest. If , and when, there is a place available you may then pay by Paypal  or call us for other payment options.