Upcoming Classes
PENINSULA ARTS SOCIETY: 159 Overport Rd, Sth Frankston
.PAS CLASSES INFO
PAS CLASSES INFO
JULIE GOLDSPINK –4 WEEKS - SHORT COURSE WATERCOLOUR IMPRESSIONS
WARM UP WITH

RED

YELLOW

AND

BLUE
DATES: Wed 1st June to 22nd June
TIME:    1.30 pm to 4.30 pm Small Studio
COST:   $140
This will be an intense short course where Julie will be teaching you many brush handling methods, along with colour mixing and theory plus watercolour techniques.
You will be shown all of the above as you proceed through your project. A Material List will be issued after enrolment and payment is received.
CONTACT JULIE ON : julie@juliegoldspink.com.au or
PH: 0402123978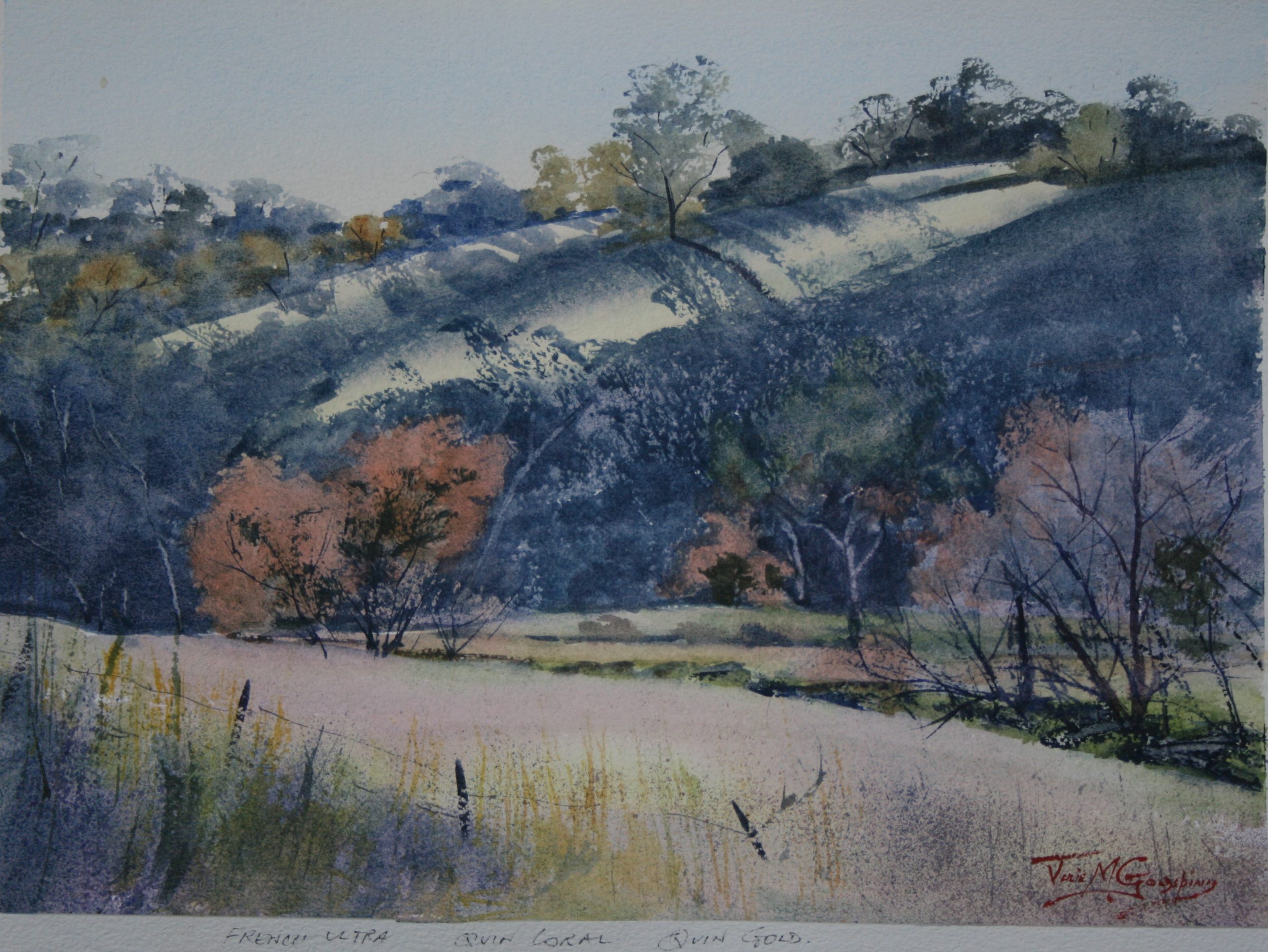 JULIE GOLDSPINK – 4 WEEKS – SHORT COURSE INNOVATIVE WAYS WITH ACRYLICS
WARM UP WITH A LIMITED PALETTE
DATES: Start Tues 31st to 21st June
TIME:    1 pm to 4 pm Small Studio
COST:   $140
This short course is an introduction to Acrylics and their diversity.
Julie has many techniques using mediums and grounds, plus glazing and palette knife use. You will be shown all of the above as she demonstrates your given subject using a limited palette. This will wet your appetite to further explore the many roads you can take using Acrylics to express yourself.
Material List will issued after enrolment and payment is received.
CONTACT JULIE ON: julie@juliegoldspink.com.au or
PH: 0402123978

In Depth Watercolour On Line - Not Zoom 
JULIE GOLDSPINK
ON-LINE WATERCOLOUR IMPRESSIONS
WHAT YOU CAN DO USING RED – YELLOW  & BLUE
Approx. Start date: 23 RD May – 5 LESSONS
COST: $270
You will receive, Links to watch Julie's in depth tuition of handling,
Watercolour, Colour Mixing, Composition plus much more. Paint while you watch Julie's easy steps to create a painting. I have structured these lessons into a Session, which will incorporate 5 lessons,
each having two images, plus a drawing and a small thumbnail painting, to test your three colours out, around 5 x 7 inches. You will each get a 2 week duration to complete.
Landscapes/Seascapes/Riverscapes
FOR BOOKINGS: contact Julie
E: julie@juliegoldspink.com.au or
PH: 0402123978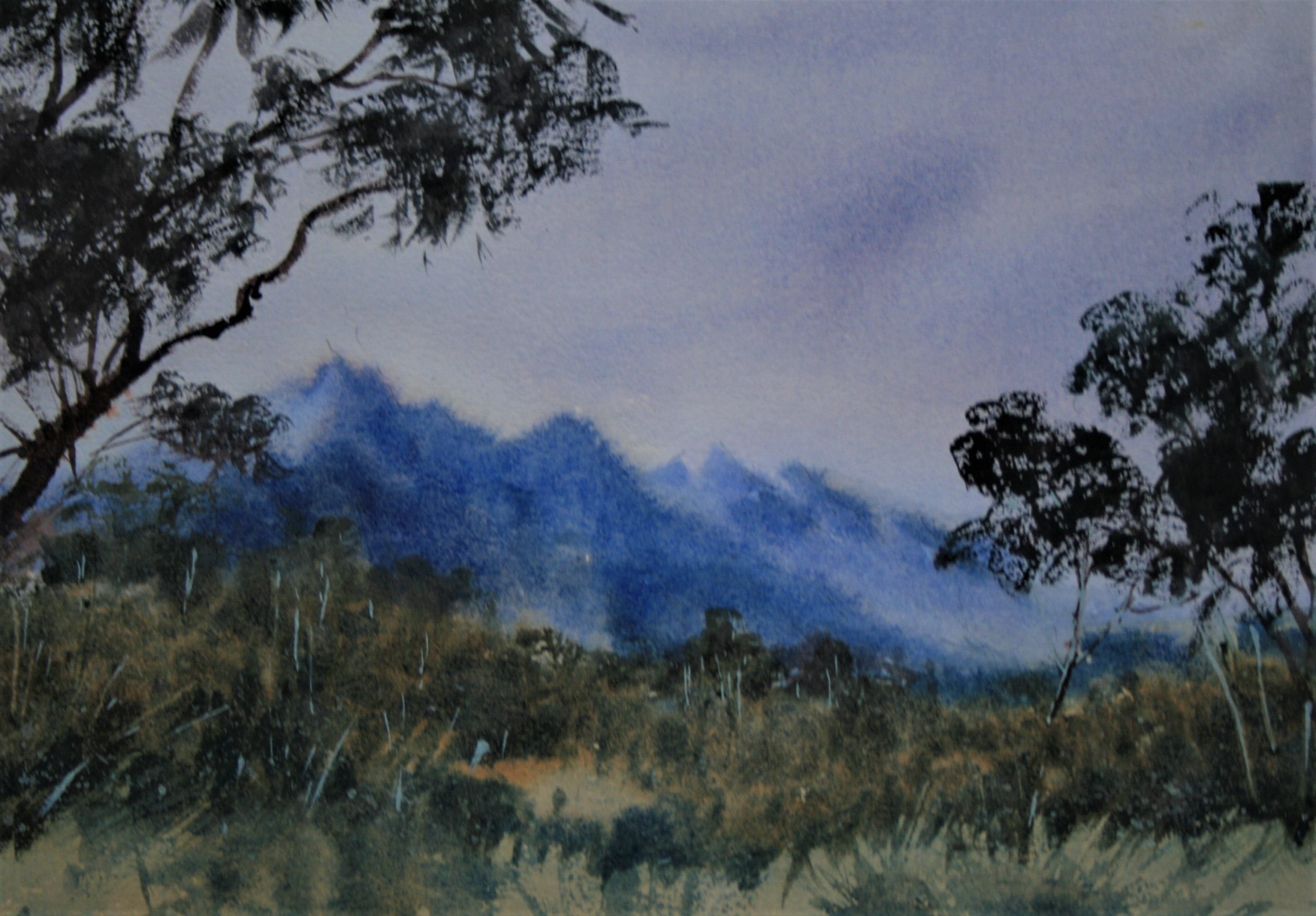 Further information about classes at Mentone Mordialloc Art Classes
comming.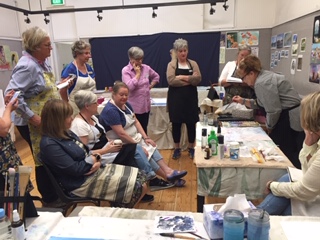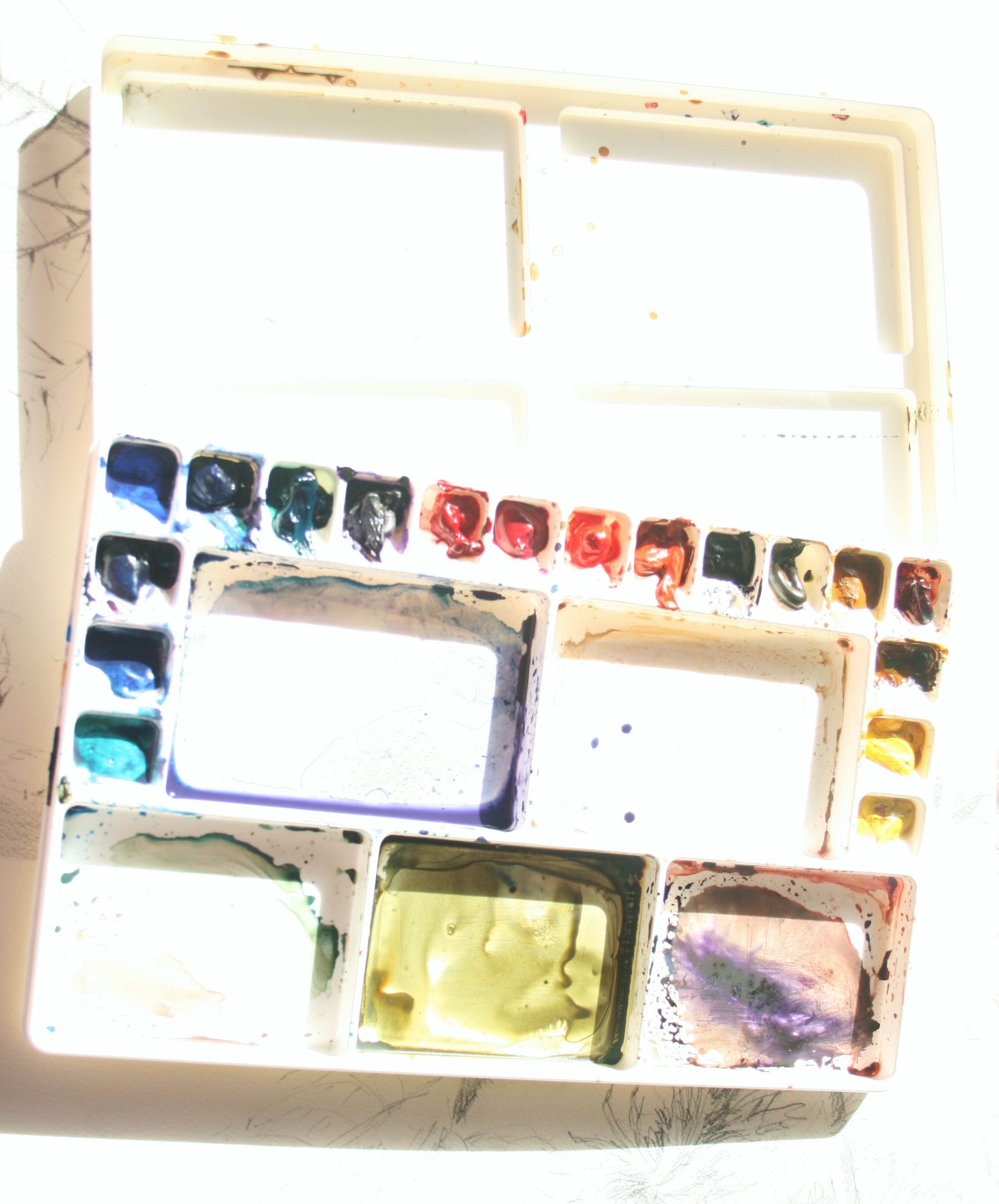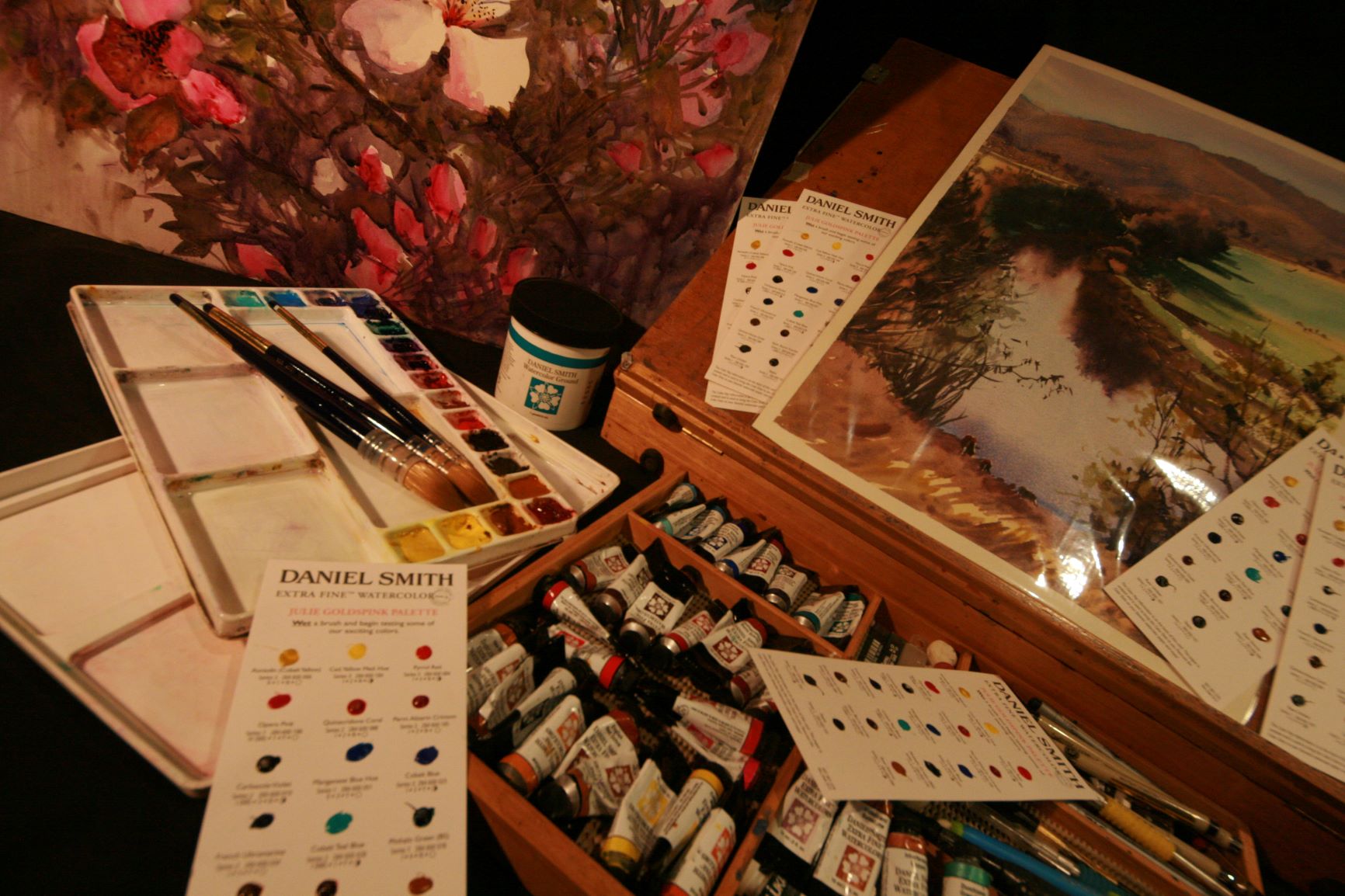 (Julie paints with and is a Promoter of Daniel Smith Fine Art Watercolours and has her own Signature Mop Brush – Neef 554 which can be purchased from all Senior Art Supplies Stores in Victoria.)
(This unique Margaret Wright Slim line profile lidded Watercolour Palette, with up to 9 mixing wells, cannot be purchased from any Art Stores. Cost is $45 plus postage. Just email Julie if you wish to order.)
TEACHING OR TUITION
Julie holds Demonstrations, Workshops and Classes, both throughout Victoria and Interstate. Before Covid hit, over the last ten years, has travelled interstate to Queensland, South Australia, NSW, Western Australia, as well as City and Country Victoria, where she resides. Listed below is an example the main work and mediums she is known for, although also works in Oils, and Pastel.
WATERCOLOURS on Watercolour Canvas, Canson  Aquaboard, Paper and Yupo.
PEN AND WASH on Paper and Travel Diary.
CREATIVE WATERCOLOURS with Mixed Media and Inks on Paper.
COLLAGE WORKS Watercolour and Acrylic based on Paper.
ACRYLICS on Canvas, Canvas board, and Paper.
OILS on Stretched Canvas, Canvas and Canvas Board.
CLASSES: due to Covid 19 ongoing restrictions, there are no physical classes at this time. However she is hoping to be running some On-Line classes for the 4th Term Starting the 4th of October, for an 8 or 9 week Duration.
More information on these Lessons will be posted on this page shortly or  contact Julie directly by email for more info.
DEMONSTRATIONS: Julie is more than happy to do 2 to 3 hour Demonstrations, relating to the above listed examples. The Venue or Art Society needs to be within a reasonable distance, no more than an hour to hour and a half time wise from home. Fees can be negotiated, incorporating travel and any equipment needed for the Demonstration. Daytime or early evening. Contact Julie by email to arrange a Booking.
WORKSHOPS: Julie will give Workshops within Victoria, and is happy to travel interstate to hold 2, 3 or 5 to 10 day duration Workshops, relating to the examples listed above. Cost: A negotiated Fee per day, plus travel and accommodation including breakfast to be agreed upon in writing or by signed contract.
Contact Julie by email to arrange and discuss all your requirements, for a wonderful Workshop.