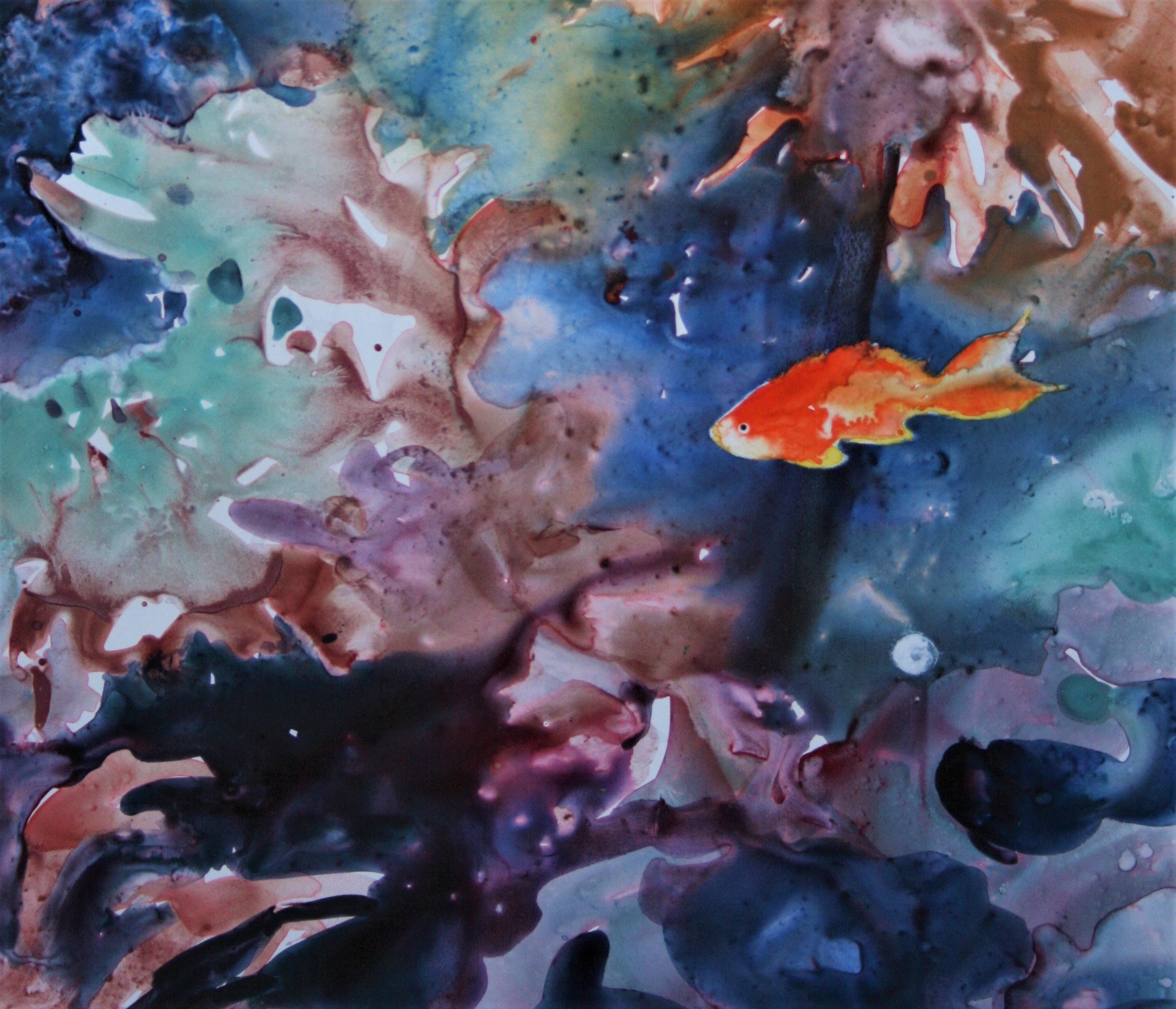 Peninsula Art Society (PAS) WORKSHOP INFO
YUPO Workshop
DATES: TUES 28 TH & WED 29 TH OF JUNE.
TIME :  9.30 SET UP, FOR 10 AM START - TO 4 PM
COST:   $ 140 M and $ 160 NM
Time to loosen up! this is the workshop is for you. Working on Yupo
is exciting, creative and gives you space to explore your Imagination.
There is nothing else that will keep you totally absorbed
and give you a feeling of total exploration. An exciting and creative surface.
With all the tricks and techniques that Julie will show you, you will be
amazed at the results you will create. So much fun to be had. Subject choice
Flowers/Tropical Underwater scenes/Rainforest scenes.
Limited numbers, so book early. Material List supplied after Booking.
TO BOOK: Please email Julie jmailto:julie@juliegoldspink.com.au or call
MB 0402123978. Material List supplied after enrolment.
WET IN WET ACRYLIC IMPRESSIONS
DATES: TUE 5th and WED 6 TH OF JULY
TIME:    9.30 SET UP FOR 10 AM START – 4 PM
COST:    $ 140 M and  $ 160 NM
This workshop will show you a new and exciting way to use your Acrylics.
Julie will demonstrate the wet in wet methods and mark making, to create
your creative backgrounds. Your surface is now prepared for drawing up your
composition. This method can apply to any subject matter and achieve
a loose and moody feel.Subject choice of Landscape/ Seascape or Flowers.
Limited numbers so book early. Material List supplied after Booking
TO BOOK: Please email Julie jmailto:julie@juliegoldspink.com.au or call
MB 0402123978. Material List supplied after enrolment.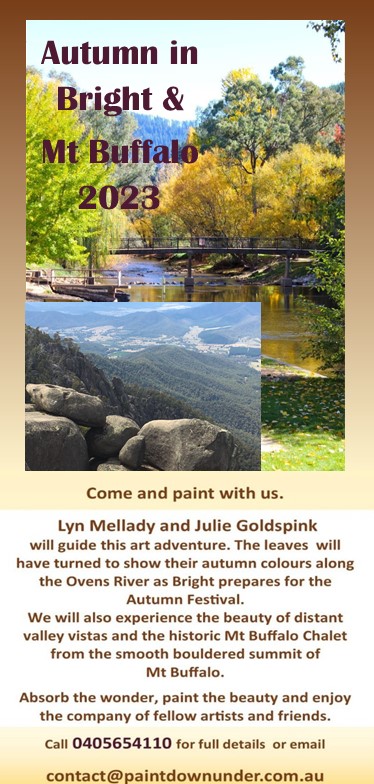 2023
Colours of Autumn
8 Days and 9 nights painting in Bright and Mt Buffalo when the weather is only a little cooler and the leaves are turning.
Pastel & Watercolour art workshops
Australian Tour Autumn 2023
March 24 to April 2
Simply drop us an email to register your interest. We are arriving in Bright on Friday March 24th  and booking out on Sunday 2nd April.

There are two options for artists planning to travel to this beautiful part of Victoria.
We are staying at the Big 4 holiday village (well appointed, luxury villas - not caravans) on the Ovens River and a short stroll to the shops, coffee shops and restaurants of Bright.
Option One
If you want to stay where we all are, and would like the details sorted out by us
We have been able to secure a number of what we consider to be the best accommodation, luxury spa villas with two private bedrooms, one bathroom, fully equiped kitchen, laundry facilities, lounge and verandah. Artists who want to stay close as a group and are happy to share the villa with one other and take advantage of  having
a) let us know ASAP
- if there is a cabin still available
b) secure your villa with a $550 deposit. ($275 each) which we will pay directly towards your accommodation. 
This will be your up front booking amount.
Please note This tiny fine print:- In case of cancellation before 30 days of arrival the accommodation Venue requires a $100 fee per villa. If less than 30 days full payment is required.
Then you can relax and simply look forward to a painting holiday with artists who love to paint and take advantage of the daily hints and demos, and enjoy the beauty of Bright, the surrounding towns and waterways and the vistas from Mt Buffalo. There will be the relaxed gatherings to watch demonstrations or share hints on how to improve your paintings. You have the freedom to prepare your own or visit the many restaurants nearby or byo meals to Lyn and Julie's gathering spot on site. There is much to explore and you will have one personal day to personalise your visit however you choose -  exploring, visiting, resting, finishing a painting, -it's your day....
Option Two
Secure your own accommodation and join us by booking the tuition and group workshop arrangements.
Please note that we have already experienced the popularity of the area at this time of year. It is wise to secure your accommodation as soon as possible.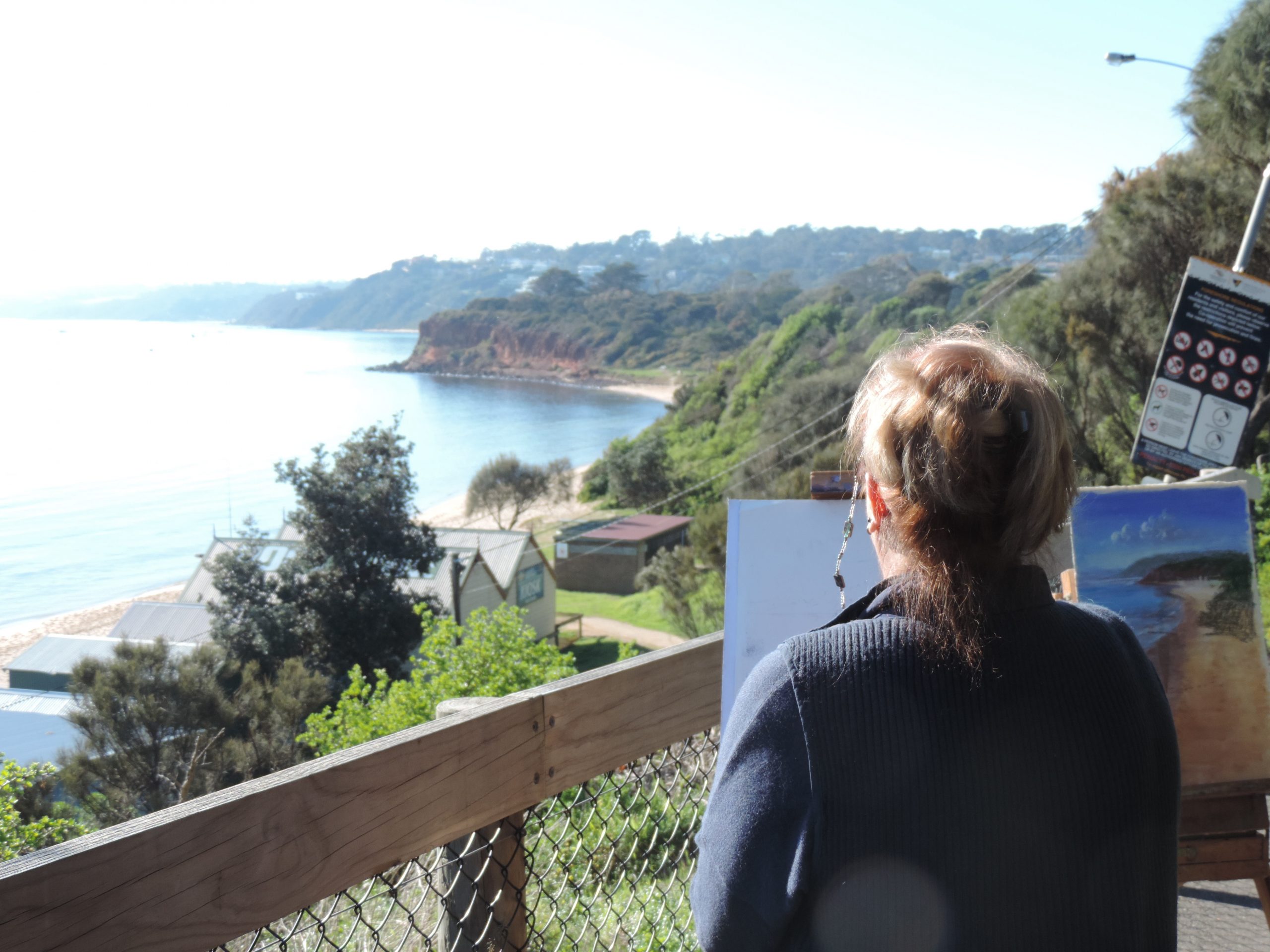 3 Day Annual Pre Summer Plein Air Workshop
for the tentative or artists who haven't yet ventured out to paint outdoors.
28,29,30th October  2022
More Info
This will be the 6th year for this workshop.
Pre Summer Plein Air Workshop 2022
Plein Air Painting Introduction Workshop.
with Paint Down Under artists
Lyn Mellady and Julie Goldspink  
3 days
Early bird booking price until Sept 12 is $220  Sept 13 onward is $250
Why venture out into the real world to paint!
There are many popular art tours happening all over the world offering to enrich the travel and share the experience of painting together.
This workshop is for artists who are uncomfortable with the concept of painting on site. They may feel exposed, inadequate or simply frustrated with their results.  Or maybe they just want to feel prepared or become more practised. This is time to learn how to choose, set up and capture the scene. Bring your preferred medium – pastel/acrylic/watercolour.
We will paint on site then bring the work back to the studio each day to assess results and decide what the next step might be and possibilities of improving. It will aim to sharpen your decisions in all stages and help you to relax with the process. WE will learn things to do and what not to do to improve the experience.
The afternoons will spring from the morning's painting.— what is the next step?   We will each possibly have a different 'next step'.