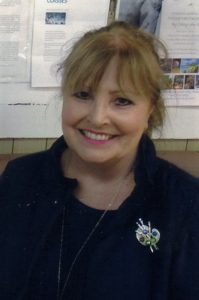 Julie Goldspink - Realist Impressionist Artist
Born in 1951, Kingston, South Australia, moved to NSW Central Coast in 1954 and then Coffs Harbour on the North Coast in 1956.Growing up in the beautiful seaside town gave her more inspiration and desire to pursue the growing love of art. Julie painted and exhibited while still at high school winning local prizes and selling her work around the district
.
She attended Tafe College at night studying oil painting and drawing, receiving certificates in both. Later moving to Sydney and then Canberra with work, she learnt porcelain painting and pottery at night, but found both too restrictive in exploring self expression. After moving to Wagga Wagga, Julie painted and exhibited throughout the Riverina district, acquiring many awards and selling works to local and overseas art lovers.
While in Wagga Wagga Julie attended Charles Sturt University - B.A Visual arts course and gained a broad knowledge in art history, textiles, printmaking, painting and graphic arts. She is now based in Melbourne Victoria. Being a former director of the Everglades Fine Art Gallery, she gained an appreciation for all forms of art and viewed the art world from a different perspective.
Julie has gained a respected reputation and is represented in galleries in Sydney and Country NSW, Queensland and local Galleries. She is best described as a realist painter but not restricted to one medium style, or subject.
In February 2014 Julie was invited to be come a member of the Australian Watercolour Institute.
Technique & Style
Julie mainly works in the area of traditional media but does a lot of experimenting in the area of Mixed Media, while she is probably best known for Watercolours. She likes to describe herself best as a Realist impressionist and doesn't like to be governed by one style, medium or subject. Watercolours are wet into wet technique.
Philosophy
Art is an addiction for me that never wanes, I hope to be able to enjoy painting and exhibiting for the rest of my life. As I travel around I realise that there wont be enough years to paint all the scenes I see in this life time. I will have to be reincarnated for a few lifetimes, I am sure of that.
You have to be passionate and self critical about painting when your putting yourself on show. For the public and hopefully and luckily selling to people from all walks of life, and countries.
The love and magic of creating a new artwork lives in the soul, and in my case consumes every part of me plus every minute I can spare Then when I do get an opportunity I go off on another plein air painting trip, or another workshop to learn something new. As life is an eternal learning journey and my inspiration is born out of all the beautiful aspects of this world, not the ugly as we see portrayed in so many artworks these days.
Education Achievement
Coffs Harbour High School
(1st Advanced Level Art & History).
TAFE Fine Art course Certificate
Coffs Harbour.
Porcelain Painting & exhibited in Melbourne.
1 year full time Bachelor Arts Degree
CSU Wagga Wagga ( Continuing ).
Participated in many workshops with many of Australia's leading artists including:-
Jack McDonough, Joshua Smith, Eve Close, Joseph Zbukvic, Alvaro Castagnet, Ross Paterson, Ron Muller, Herman Pekel, Colley Whisson, Barbara McMannus, Robert Wilson, Noelene Millar, Helen Goldsmith, Lyn Butchart, Barry & Lucy McCann, Grace Paleg, John Perkins, Reg Campbell, Lucia Ray, Greg Allen, Colina Grant, Graham Cox & Ted Berry and John Corby.
Exhibitions
Everglades Fine Art Gallery With Ken Taber.
Sylvania Gallery With Lyn Mellady, Maureen Klees, Margot Vaughan & Nada Oloughlin.
The Pallette Cafe With Nada O'Loughlin & Howard Ireland.
Morpeth Art Studio With John Parkinson, John Millenkovik, Gil Ward & Warner Webb.
Weswal Gallery Tamworth With Mary Knott & Ann Loeve. Sunset Gallery With Nada O'Loughlin
Group Exhibitions
Has participated in numerous group exhibitions throughout NSW.
Exhibiting with:
The Wagga Wagga Art Society
Port Macquarie Art Society
Hastings Valley Art Society
Singleton Art Society
Port Stevens Art Council Annual Little Picture Show
Sydney Kings College
St Josephs Annual Campberwell Art Exhibition
Sydney Royal Easter Show Exhibition
Sunset Gallery
Weswall Gallery, Tamworth
Butterflies Gallery, Hunter Valley
PMRG GLASSHOUSE : Living on the Edge Exhibition 2010
Plus many country exhibitions
Awards
1966
Bi Centenary Art Show , Coffs Harbour Open Section Oil - 1st
1968
Cobar Annual Show Oil - 1st
1994
The Rock Annual Show Champion Ribbon Best Watercolour - 1st Best
Oil - 1st Best
1997
Manning Valley Beef Week Watercolour - 1st
2000
Camden Haven PAH & Society Oil - 1st
2000
Gloucester Art Society Works On Paper - 1st
2001
Inaugural winner of the Mitchell College CSU Summer School Award.
2001
Port Macquarie Heritage Awards Watercolour H/C
2002
Camden Haven PAH & Society Champion Ribbon - Watercolour Oil - 1st
Oil - H/C Watercolour - 1st
2003
Singleton Art Prize Winner of Contemporary Section
2005
Camden Haven PAH & I Society Inc
1st Prize Watercolour(Works on paper)
2005
Wingham Beef Week
1st Prize Open Section
2006
39th Raymond Terrace Annual Art Show.
First Prize Watercolour.
2006 - 2009
Gwydir Art Show
1st in Watercolour
2006
Adelaide Swift Memorial Art Award
1st in Acrylics
1st in Watercolour
2006 - 2007
HVFAA Summer Exhibition
Grand Champion Watercolour
Highly Commended Watercolour
2003, 2004, 2007.
Port Macquarie Art Society Easter Exhibition
1st Place Flowers and Still Life
2007
Comboyne Show
1st Prize Most Outstanding Painting Watercolour
2007
Coffs Harbour Lillipilli Art Exhibition
1st Prize Watercolour
2008, 2009, 2010
Camden Haven PAH&I Society INC.
1st Prize Watercolour
2000 1st Oil
2002 & 2005 champion
2006-2007 2008-2009 2009-2010
Hastings Valley Fine Art Association Inc.
1st Prize OIL & Acrylic
2009-2010 Best Painting In Exhibition
2008
Comboyne Show
Champion Painting in Show
1st in Watercolour
2006 - 2008
Raymond Terrace Annual Art Exhibition
1st Prize Any Subject Any Medium
2009, 2010
Comboyne Show
1st in Watercolour
2009
Wauchope Country Music Festival
1st Watercolour
2009.
Port Macquarie Art Society Easter Exhibition
1st place in Watercolour
2010
Highly Commended in Watercolour Singleton Art Prize
2010
Highly Commended in Watercolour open Section Art in the Village Aevum Living. Port Macquarie.
2010
1st prize Mid North Coast Open Art Prize
2011
Overall Champion Camden Haven Show
2011
Highly Commended Open Section, Port Macquarie 36th Annual Easter Art Exhibition
2012
Highly Commended at Mt View Art Show Mt Waverley
2012
AGRA 2012 Seasonal Spring Exhibition WINNER - " Gum Blossoms " Watercolour on Yupo
2013
Alongside Exhibition at Edrington. Awarded 3 Highly Commended for:" Dusk at Westernport Bay", " Last Sun Cape Schanck ", " Morning Mist Five Day Creek ".
2013
A.G.R.A. on Line Exhibition. Highly Commended for " Constant Motion " Finalists " Last Sun Cape Schank "," Early Morning Hanging Rock ", " River Bend "
Memberships
Member of the Watercolour Society of Victoria Australia
Member Australian Watercolour Institute 2014
Victorian Artists Society
Fellow of the Australian Guild of Realist Artists, Melbourne, Vic. Awarded fellow in 2015 and now on the AGRA Council
Peninsula Art Society of Victoria
Pastel Society of Victoria Australia
McClelland Guild of Artists Victoria
Coastal Villages Art Group Warneet VIC
Waverley Artists Society Inc Vic
Sherbrook Art Society Inc Vic
Berwick Artists Society Inc Vic
Other Achievements
1996 - 1998
Owner & Director of Everglades Fine Art Gallery & Framing Port Macquarie.
1998 - 1999
Secretary of Hastings Valley Fine Art Association (HVFAA).
2000
President of Hastings Valley Fine Art Association (HVFAA).
2001 - 2003
Vice President Hastings Valley Fine Art Association (HVFAA).
2001 - 2010
Tutorial Coordinator for HVFAA, holding 5 workshops each year of some of Australia's most acclaimed artists. Covering all mediums.
2001 - 2003
Owner of "The Artist Framer" looking after all Artists Framing needs in the district.
2004 - 2005
President of Hastings Valley Fine Art Association (HVFAA).
July 2004
Tutoring Port Macquarie Winter Schools of the Arts
Tutor in Watercolour, Floral and Still Life
August 2004 -2010
Opened Own Gallery & Custom Picture Framing
2008 -2011
Full Member of the Australian Guild of Realist Artists, Melbourne, Vic
2005 - 2013
Demonstrator & Tutor for Chroma Australia
2010 - 2013 Member of the Watercolour Society of Victoria Australia
2012 Awarded Signatory Membership Status with AGRA
February 2014 Member of the Australian Watercolour Institute.
Tutoring for Peninsula Art Society 2011 - ongoing
Tutoring for Malvern Art Society - on going
Awarded - A Fellow of the Australian Guild of Realist Artists 2015
Julie Goldspink
350 Melbourne Road,
Blairgowrie,
Victoria 3942
Phone : 0402 123 978 or 03 5988 8852